PM Kisan FPO Yojana 2022 – Even today the condition of farmers in India is very bad. PM Kisan FPO scheme has been started by the central government for all the farmers of the country. Under which Farmer Producer Organization (FPO) Farmer Producer Organization i.e. farmers will be provided financial relief. In today's article, we will get you all the important information related to PM Kisan FPO Scheme. Like what is PM Kisan FPO Scheme?, its purpose, benefits, features, eligibility, important documents, application process etc. You are requested to read this article of ours till the end.
To take this scheme forward, Prime Minister Modi has made a plan to open 10,000 FPOs in a period of five years by 2023-24, so that maximum farmers can be benefited. This will enable farmers to collectively tackle their challenges such as access to agricultural inputs and marketing of produce. With this, under the PM Kisan FPO scheme, the government will provide financial assistance of Rs 15 lakh to the farmers, for which an official notification has been issued. From here you can fill PM Kisan FPO Registration Form 2022 online.
Overview – PM Kisan FPO Yojana 2022
Modi government is constantly striving to double the income of farmers. After bringing the new agriculture bill, the government is going to give gifts to the farmers to make agriculture a business. Therefore, now the Modi government will provide 15 lakh rupees to the farmers to start a new agricultural business.
| | |
| --- | --- |
| Yojana Name | PM Kisan FPO Yojana 2022 |
| Beneficiary | Country Farmers |
| Category | Central Government Scheme |
| Purpose | doubling farmers income |
| Launched by | Central Government of India |
| Apply Mode | Online/Offline |
| Year | Current Year – 2022 |
| Official Website | http://sfacindia.com/FPOS.aspx |
What is PM Kisan FPO Yojana
Simply put, FPO is a type of Farmer Producer Organization that works to help farmers in their interest and is registered under the Companies Act. Similar FPO organizations will be promoted under PM Kisan FPO Scheme. After the Pm Kisan FPO Yojana is registered, the common farmers get a lot of benefits. Under this scheme, financial assistance of Rs 15 lakh will be provided to the organizations by the central government. The amount given under this scheme will be provided in 3 years.
Purpose of PM Kisan FPO Scheme 2022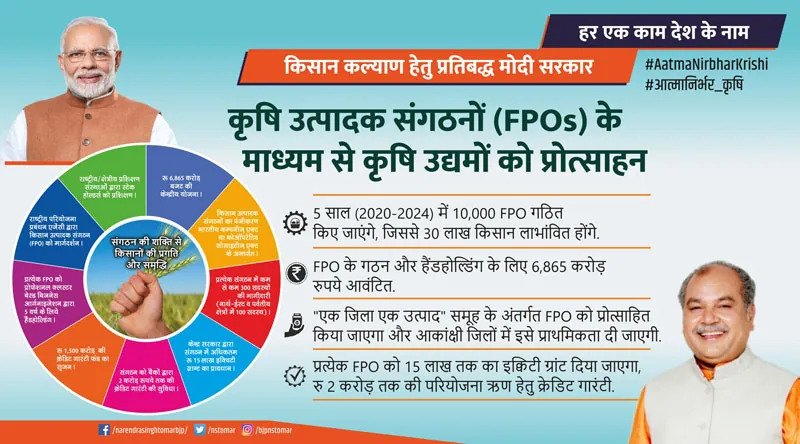 The only main objective of PM Kisan FPO Scheme is to make the agriculture sector better. There are many farmers in the country whose economic condition is very weak, due to which they are not able to do many of their work properly. Due to lack of proper agricultural equipment, farming becomes very difficult, keeping this problem in mind, this scheme has been organized by the central government, which will also increase the income of the farmers and for them all those related to farming. Various facilities will also be made available.
Eligibility for PM Kisan FPO Yojana
Applicant should be a farmer by profession.
Applicant must be an Indian citizen.
An FPO in the plain area should have at least 300 members.
An SPO in hilly area should have at least 100 members.
It is mandatory for the FPO to have his own cultivable land and it is also mandatory to be a part of the group.
Document Required PM Kisan FPO Scheme
Permanent Resident Certificate
Aadhar card
Photocopy of bank passbook
caste certificate
Address proof
land papers
Ration card
income certificate
passport size photograph
mobile number
Interested Candidates Can Read the Full Notification Before Apply Online
It may be that farmers may have to wait a bit to take advantage of PM Kisan FPO Scheme. Because the central government has not yet started the process of registration in this scheme. As soon as the process of registration starts, you will be able to apply for it. The government says that soon PM Kisan FPO Yojana will be opened for application.
FAQ – PM Kisan FPO Yojana
What is PM FPO?
FPO is an organization of farmers in which there can be more than 11 farmers, these organizations can directly trade their crops.
How to register for PM Kisan FPO?
You can register online through website www.enam.gov.in or through mobile app or by visiting nearest e-NAM Mandi.
What is the full form of FPO?
The full name of FPO is Farmer Producer Organization.
What is the helpline number of the Isan FPO Scheme?
Helpline Number: 011-24300606,155261
Main objective of the FPO scheme?
The main objective of this scheme is to advance the agriculture sector.
Similarly, we first give information about the new or old government schemes launched by the Central Government and the State Government through our website Latest Sarkari Yojana so do not forget to follow our website. If you liked this article then do like and share it. Thanks for reading this article till the end.